Building a guitar is one of the most demanding woodworking projects requiring rigid precision, tight joinery, and a combination of just about every woodworking skill imaginable. You not only need to be familiar with the many individual hand and power tools required, you need to display a great aptitude with each of them to ensure a successful result. On top of that, you need to understand the electronics as well.

After years of woodworking, I found that most of the things I was making may have been nice to look at and may have served some physical purpose such as holding or displaying objects, but it seemed that there was always some larger challenge over the horizon. Many of my more recent projects began to explore the mixture of media (wood and glass, or wood and lighting). Since I'm a musician and have played in bands for many years, making a guitar was always an attractive prospect. However, whenever I considered undertaking this daunting challenge, my apprehension always outweighed my confidence.

Building a guitar would require a large investment in materials: the wood, the tools, the knobs, switches, tuners, frets, pearl inlays... the list goes on and the cost of those individual components adds up quickly. This project would also require a large investment of time. I continually questioned my abilities thinking, "What if the neck doesn't play right?", "What if the electronics don't work?, "What if the finish sucks?" Messing up any one of those aspects would mean an even larger commitment in fixing the problem, or perhaps having to start over from square one. Fortunately I found a friend who had confidence in my abilities... and who would foot the bill! It was just enough encouragement to give it a try.

While researching this project, I found others' stories of their build experiences invaluable. When starting this build, it was my intention to post my experience on the internet as well so someone else could muster the courage to build their own guitar and avoid as many mistakes as possible along the way. Now that the guitar is done, I am fulfilling my self-imposed obligation to share my experience.

The following text, albeit lengthy, is very thorough and is illustrated with over 375 photos and illustrations. It's offered to aspiring luthiers for free as long as you keep my name on the front cover (and maybe consider purchasing something from my website). If you're a publisher, I'd be happy to talk to you about printing it. You can email me with questions as you work on your guitar build and I will answer them to the best of my ability. Please read the book online starting with the link to the Table of Contents below or download the whole book in Adobe Acrobat pdf format. You'll need to download and install (the free) Adobe Reader to view it.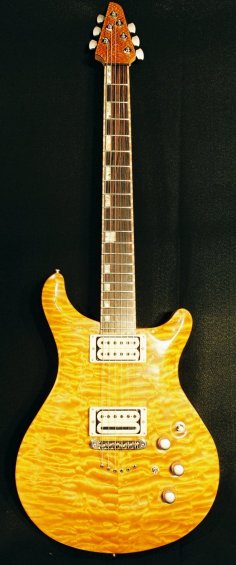 You can always click on the photos to see them in a larger size. Use your browser's "Back" button to return.