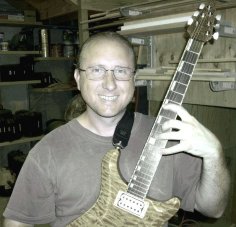 As you've probably already noted, my name is Vince Gelezunas and I reside just outside of St. Louis, Missouri. I earned bachelor's degrees in Architecture, Art History, and Studio Art from Drury University in Springfield, Missouri. I also have completed the full curriculum for Woodworking & Cabinetry at Ranken College in St. Louis. Over the years I've explored art in many directions and through various media: drawing, painting, ceramics, photography, music, woodworking, stained glass, and more.

I played in a top-rotation, local working band for fourteen years. Being a guitar player myself, I know music and what discerning musicians want out of a guitar. I've been building, repairing, and modifying guitars for over ten years.

If you want to hear a bit more about me, drop me an email and I'll be happy to chat with you.